Full List of Philippine Banks Swift Codes
PHILIPPINE BANKS SWIFT CODES – Here is a full list of the swift codes of the private and government banks in the Philippines.
Aside from the PayPal bank codes, the private and government banks in the country also have the "Society for Worldwide Interbank Financial Telecommunication" code or more commonly known as 'Swift Code'.
The Swift Code is uniquely given to every bank around the world for identification purposes. Often times, this code is used in transferring money between banks most especially for international transfers.
Another name for Swift Code is the Bank Identifier Code or BIC. A code may contain either 8 or 11 characters. A code with 8 characters refers to the Head Office of the Bank while the code with 11 characters refers to a specific bank unit.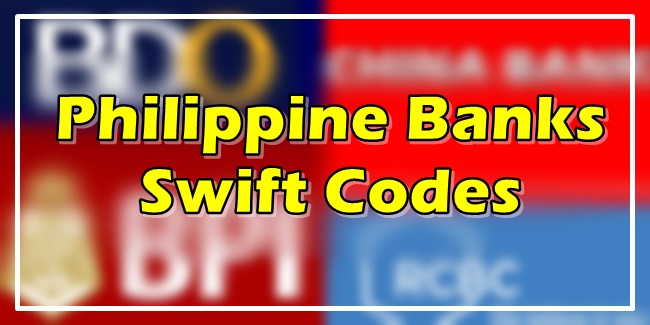 Based on an article on Pinoy Moneytalk, here is what the digits or characters in the Swift Code refer to:
First 4 letters – Bank Code
Next 2 letters – Country Code
Next 2 characters – Location Code
Last 3 characters – Branch Code
Based on the article, here is a full list of the Philippine Banks' Swift Codes.
PHILIPPINE BANKS SWIFT CODES / BIC
Banco de Oro (BDO)
BDO UNIBANK, INC., MANILA – BNORPHMM
BDO ELITE SAVINGS BANK, INC., TAGUIG CITY – BDESPHM1
BDO SECURITIES CORPORATION, MAKATI CITY- BDSCPHM1
BDO NOMURA SECURITIES, INC., MAKATI – BNSCPHM1
BDO PRIVATE BANK INC., MANILA – BOPBPHMM
BANCO DE ORO SAVINGS BANK, INC., MAKATI – ORSIPHM1
Bank of the Philippine Islands (BPI)
BANK OF THE PHILIPPINE ISLANDS MANILA – BOPIPHMM
BANK OF THE PHILIPPINE ISLANDS MANILA – BOPIPHMMTRY
BPI CAPITAL CORP., MANILA – BPAPPHM1
BPI CARD FINANCE, MANILA – BPCNPHM1
BPI DIRECT MANILA – BPDIPHM1
BPI FAMILY BANK, MANILA – BPFFPHM1
BPI FAMILY SAVINGS BANK, MAKATI – BPFSPHM1
BPI GLOBE BANKO INC., MAKATI CITY – BPGOPHM1
BPI SECURITIES CORP. MANILA – BPISPHM1
BPI LEASING CORPORATION, MANILA – BPLIPHM1
Metrobank
METROPOLITAN BANK AND TRUST CO., MANILA – MBTCPHMM
METROBANK CARD CORPORATION (A FINANCE CO.), MAKATI – MCCEPHM1
Citibank
CITIBANK N.A., MANILA BRANCH, MAKATI – CITIPHMX

CITIBANK SAVINGS INC. , QUEZON CITY – CITIPH21

CITIBANK N.A., MANILA BRANCH, CEBU – CITIPHMXCBU

CITIBANK N.A., MANILA BRANCH, MANILA – CITIPHMXTSU

CITIBANK SECURITIES INC., MANILA – CIVPPHM1
Land Bank of the Philippines
LAND BANK OF THE PHILIPPINES, MANILA- TLBPPHMM

LAND BANK OF THE PHILIPPINES, DAVAO – TLBPPHM10M2

LAND BANK OF THE PHILIPPINES, ILOILO – TLBPPHM10M3

LAND BANK OF THE PHILIPPINES, GENERAL SANTOS – TLBPPHM10M4

LAND BANK OF THE PHILIPPINES, CEBU – TLBPPHM10MC

LAND BANK OF THE PHILIPPINES, QUEZON CITY – TLBPPHM10MQ