Guide on Home Credit Online Payment For Your Convenience
HOME CREDIT ONLINE PAYMENT – Here is a guide on how to pay for your Home Credit loan through the app of the financing firm.
Nowadays, there are some entities where you can easily apply for a loan and promises quick evaluation of loan applications. One of these is Home Credit Philippines. Undeniably, it is also one of the most popular lending firms in the country.
Home Credit Philippines got several different offers. It is mainly known for its product financing services. If you have a target product like a gadget, furniture, or an appliance that you wish to purchase through a loan, you may apply for its product financing offer. Your cash out will only be 20-30 percent of the total price and the rest of the loan will be paid in monthly installments.
The lending firm also offers Home Credit Cash Loan. This is usually an offer to previous and existing clients with good credit history. It is a multi-purpose loan offer.
When it comes to paying for the loan, one of the options is the Home Credit online payment. You must register in the My Home Credit app if you wish to pay through this mode. The following may be registered for the payment:
local debit card with Visa or Mastercard logo
UnionBank online account
BPI online account
For the Home Credit online payment, you may do it through the app or through the official website of Home Credit Philippines. You need to prepare your loan account number, date of birth, mobile number, and amount to pay to proceed.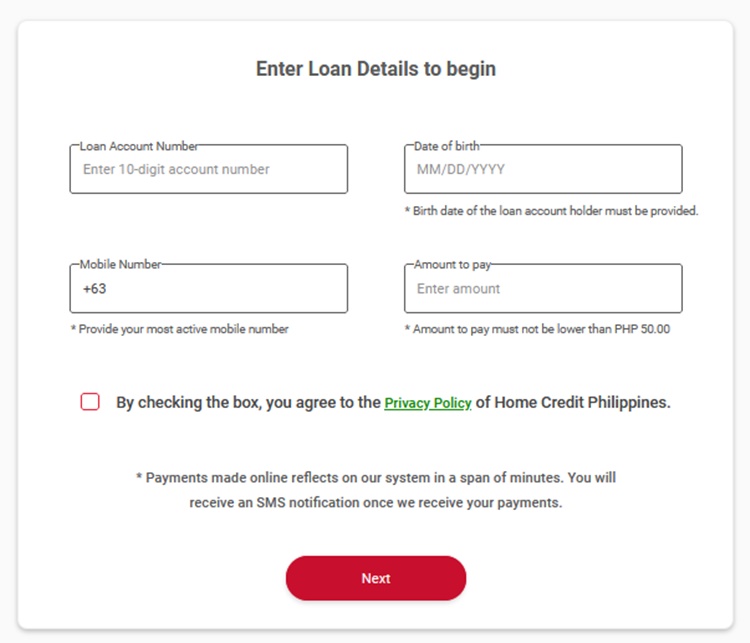 Select the "Pay" button in the dashboard and enter the amount you want to pay. Select the payment options. You will be notified if the payment is successful.
You may also visit – Home Credit Payment: List of Partner Channels Where You Can Pay