Guide on How To Apply for the Maybank Auto Loan & the Requirements
MAYBANK AUTO LOAN – Here is a guide on how to apply for the car loan offer of Maybank and the requirements in applying for the said type of loan.
One of the most useful things that anyone could have now is a car. Undeniably, there is a struggle in traveling through public transportation. There is always a risk that you can't get to your destination on time.
Also, traveling through public transportation may be pricey at times most especially if there is no direct route to your destination. That is why a lot of prefer to purchase their own vehicles.
Nowadays, you can actually acquire a brand new vehicle even if you don't have the cash to pay it in full. It is possible with the aid of bank loans such as the Maybank Auto Loan.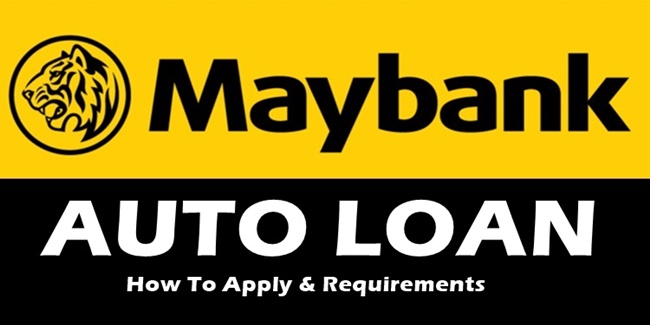 The Maybank Auto Loan is open for applicants who wanted to purchase a brand new car may it be for personal or business use. It only requires a 20% downpayment and the payment term can be stretched to up to 60 months.
Based on the official website of Maybank, to be eligible for the said loan offer, the applicant must possess the following qualification standards:
Age between 25 and 60 years old
No adverse records
Owner of a residence
Permanently employed for at least 2 years
Business in operation for at least 3 years
To apply for the Maybank Auto Loan, you just have to prepare the requirements and bring them with you to the nearest bank branch. Here is a list of the documents that you need in applying for the said loan offer:
Completely filled-out and signed application form
2 valid IDs (borrower and spouse / authorized signatory)
Latest income tax return
Compensation certificate, income indicated (if employed)
Business Papers (SEC Registration, Articles of Incorporation & By-Laws if Partnership and Corporation; DTI Registration if Single Proprietorship)
Latest 3 months Bank Statements (if self-employed)
Latest Audited Financial Statements (for Corporate Borrowers)
Thank you for visiting our website. We hope we have helped you with regards to this matter. You may keep coming back for more informative guides.
READ ALSO: MAYBANK PERSONAL LOAN – Minimum & Maximum Loanable Amounts