List of the Requirements in Applying for RCBC Loans
RCBC LOANS – Here is a list of Rizal Commercial Banking Corp. loan offers and the requirements in applying.
Most banks in the Philippines now are offering the public several turn-tos not only in the face of emergency but also when it comes to their desire for properties. One of these banks is the RCBC.
The RCBC has several loan offers for the public including the personal loan, the housing loan, and the auto loan. These RCBC loans have different sets of requirements in applying.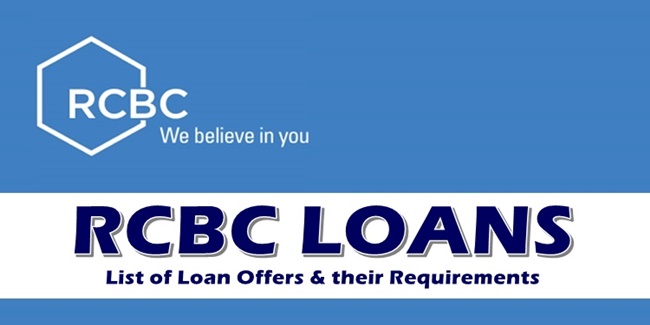 Here is a summary of the RCBC loans and as well as the requirements in applying for each of them:
RCBC PERSONAL LOAN
The personal loan offer of the RCBC is the type of loan which serves a flexible purpose. You may apply for it to pay for medical bills, for travel expenses, for the purchase of a device or appliance, etc.
For the list of requirements in applying, visit – RCBC Personal Loan.
RCBC HOUSING LOAN
If you want to purchase a residential property, to fund a house construction or renovation, to take out an existing home loan, or to get reimbursement of your expenses in the purchase of a house and lot, the RCBC Housing Loan is perfect for you.
For the list of requirements in applying, visit – RCBC Housing Loan.
RCBC AUTO LOAN
The RCBC Auto Loan is open for applicants who want to acquire a brand new or secondhand vehicle. Its set of requirements differ depending on the employment status of the applicant.
For the list of requirements in applying, visit – RCBC Auto Loan.
To apply for any of the RCBC loans stated above, simply bring the requirements to the nearest bank branch.
Thank you for visiting our website. We hope we have helped you with regards to this matter. You may keep coming back for more informative guides.