Guide on GSIS Disability Benefit Eligibility Qualifications
GSIS DISABILITY BENEFIT – Here is a guide on who may apply for this benefit of the Government Service Insurance System.
Many Filipinos are working in the government and the public sector. These individuals are members of the Government Service Insurance System or more commonly called as the GSIS.
GSIS members pay for a monthly contribution that will serve as savings. For most employed members, it is deducted from the salary and remitted by the employers to the social insurance institution.
VISIT: GSIS Loans – How To Check Your Loanable Amount Per Loan Offer
In other cases, members remit their monthly contributions to GSIS branches. There are several benefits and offers for the members but there are eligibility requirements or qualifications.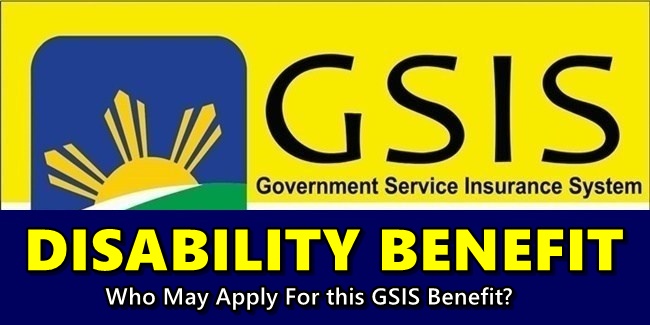 One of the GSIS benefits is the GSIS Disability Benefit. It aims to financially assist members who obtained permanent total disability, permanent partial disability, or temporary total disability under certain conditions.
The GSIS has categorized cases and specified those considered as "Permanent Total Disability" and "Permanent Partial Disability". You may refer below:
According to GSIS, with regards to the "Temporal Total Disability", these are disabilities that can be rehabilitated or brought back to normal functions. However, it may cause temporary incapacity to report to work.
GSIS has several other benefits. You may also visit – GSIS UNEMPLOYMENT BENEFIT – Who May Apply For This GSIS Benefit.
Thank you for visiting our website. We hope we have helped you with regards to this matter. You may keep coming back for more informative guides.
READ ALSO: GSIS BENEFITS – How To Apply For It Through "GTAP"