List of Loanable Amounts Under the GSIS Loan Offers
GSIS LOAN OFFERS – Here is a full list of the loanable amounts under the loans offered by the Government Service Insurance System (GSIS).
The government insurance institution in the Philippines that takes care of the insurance of the Filipinos working in the public sector is the GSIS.
The membership to the said social insurance institution requires a member to pay for the GSIS Monthly Contribution to be eligible for the privileges and benefits it offers.
Among the benefits offered to the members are the GSIS loan offers. There are several types of it depending on the purpose and the loanable amounts may vary.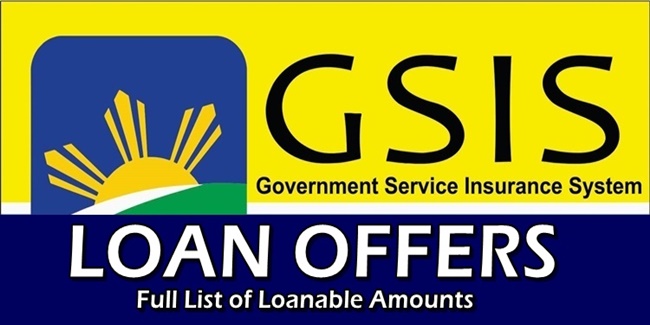 Based on an article on Cashmart, here is a list of the loanable amounts under the different GSIS loan offers:
1. Enhanced Conso-Loan Plus
The GSIS Conso-Loan or consolidated loan combines the different existing loans such as the salary loan, the enhanced salary loan, the emergency loan, and the summer one-month loan into one loan.
Minimum Loanable Amount: Php 15,000.00
Maximum Loanable Amount: 14-Month Loan (Basic Salary)
2. Policy Loan
Under the GSIS Policy Loan, you may obtain a cash assistance based on the insurance policy that you have – either the Life Endowment Policy (LEP) or Enhanced Life Policy (ELP).
LEP Loanable Amount: 70% of the accumulated termination value of the policy
ELP Maximum Loanable Amount: 50% of the cash value
3. Enhanced Emergency Loan
The GSIS Emergency Loan is open for those members whose areas were struck with calamities.
No Existing Emergency Loan: Php 20,000.00
With Existing Emergency Loan: Php 40,000.00
4. Pension Loan
Based on the article, the GSIS Pension Loan is open for old age pensioners under the Republic Act 660 and the Republic Act 8291 and Presidential Decree 1146.
60-64 years old: Maximum of 6 times the BMP but not exceeding Php 100,000.00
65-69 years old: Maximum of 4 times the BMP but not exceeding Php 60,000.00
70 years old and above: 2 times the BMP but not limited to Php 20,000.00
READ ALSO: GSIS LOAN INTEREST RATES – List of Interest Rates Under GSIS Loans