Guide in Applying for Phil Star Development Bank / PSDB Salary Loan Offer
PSDB SALARY LOAN – Here is a guide on how to apply for the salary loan offer of the Phil Star Development Bank.
Undeniably, there are times when we find it hard for the ends to meet or we struggle to make a personal goal happen due to insufficiency of fund. Fortunately, nowadays, there are several banks that are willing to provide cash assistance.
One of those banks that offer cash assistance to the public is the Phil Star Development Bank or also called as the PSDB. It initially started on providing services for the Batangeños.
The bank provides the cash assistance through the PSDB Salary Loan offer. It may also be called as a personal loan.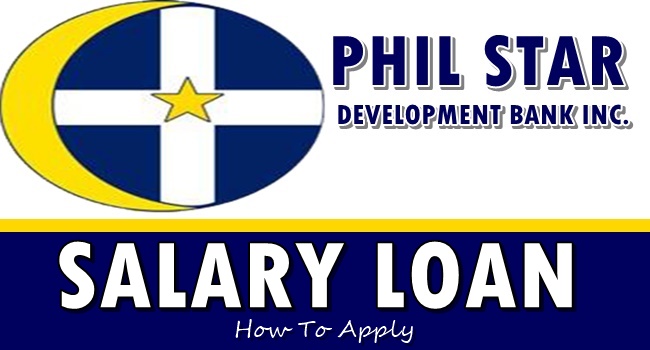 Based on the official website of the Phil Star Development Bank, to apply for the PSDB Salary Loan, you must pass the eligibility qualification standards and comply with the requirements.
Here are the lists of the qualification standards set and the requirements that should be submitted to the bank:
An applicant must:
be at least 21 years old at the time of application but not more than 65 years old upon loan maturity;
be a Filipino citizen; and
have an office or residence landline.
Requirements:
If Employed
Permanent status
Employed in the current company for at least two(2) years on the time of the application for loan
If Self-Employed
With a business that is profitable for at least two(2) years
Minimum gross monthly income of Php 10,000.00
Other Documentary Requirements (Individual Applicant):
Individual Account
I. Borrower's Identification
One (1) ID Picture
Two (2) Valid ID's
Tax Identification ID/ TIN
II. Source of Income
A. If Employed
Certificate of Employment (Salary and tenure Working Contract)
Proof of remittance, if OFW Proof of Income/Income Tax Return
Latest Payslip for the last 3 mos. / Latest Three(3) months Bank Statements
B. If Maintaining a Business/Self-Emplyoed
Latest Business Permit/DTI Permit/Mayor's Permint/SEC/BIR
Barangay Certification on Hog/Swine/Cattle/Other Business
Autited FS and In-House Financial Statement (latest 3 years)
Certificate of Registration (for sole Proprietor)
Articles of Incorporation & By-Laws (for Corp)
III. Collateral
Transfer Cert. of Title (TCT) or Original Cert. of Title (OCT)
Latest Copy of Tax Declaration
Tax Recept & Tax Clearance for the Current Year
Location Plan with Vicinity Map
Copy of the Registered Deed of Sale/Donation/Inheritance, (for securites evidenced by Tax Declaration)
Latest Fire Insurance for Collateral Improvements with Orig. O.R.
Payment of Appraisal Fee of 2,500 per property
Certificate of Deposit (for loan secured by Hold-out of deposits)
Original OR/CR/Motor vehicle insurance (for Auto Loan)
IV. Notarized Documents
Real Estate Mortgage-bank's template
Special Power of Attorney, if applicable
Affidavit of Non-Title
Affidavit of Non-Tenancy
Certification of Non-title from CENRO
V. Authorizations
Authorization to Conduct and Verify (Bank Credit/Deposits)
Property Appraisal Authorization
Verification Authorization of Collateral
VI. Additional Documents (Please specify)
Should you wish to check on a bank loan calculator provided for the PSDB Salary Loan, you may visit the official website of the bank – http://philstardevelopmentbank.com.
Thank you for visiting our website. We hope we have helped you with regards to this matter. You may keep coming back for more informative guides.